Don't forget to share your photos from last night's National Night Out to enter our photo contest! Top 3 pics will receive a prize!😎 Tag us @turlockpd and #turlocknno2021 to enter! Make sure your photo is shareable so that we see it or DM it to us! 📸📸📸 #turlock #turlockpolice #turlockpd City of Turlock - Parks, Recreation & Public Facilities Department City of Turlock - Fire Department City of Turlock - Municipal Services Department
Posted on Facebook 1 day ago
Some lucky kids received sports balls last night, thanks to the donation from Dicks Sporting Goods! 🏀 🏐 #turlocknno2021 #turlock #turlockpolice #turlockpd
Posted on Facebook 1 day ago

#turlocknno2021 on Jackson Court! What a blast!
Posted on Twitter 1 day ago
That's 👏a 👏 wrap! 👏 we had so much fun seeing all the block parties tonight! Until next year! Thank you for spending National Night Out with us! 👋 #turlocknno2021 #turlock #turlockpolice #turlockpd
Posted on Facebook 2 days ago
#TurlockNNO2021 block party happening on Vermont! 🤩 we're loving all these neighbors getting together!
Posted on Facebook 2 days ago
#TurlockNNO2021 on Sierra Drive! 🤩🤩🤩
Posted on Facebook 2 days ago
#turlockNNO2021 on Ahlem Way! 🤩🤩🤩
Posted on Facebook 2 days ago
#turlockNNO2021 on Jackson Court! What a blast! 🤩
Posted on Facebook 2 days ago
TONIGHT! Will we see you out tonight for National Night Out?? Neighborhoods all over town are hosting block parties, along with another block party happening at Columbia Park hosted by Turlock Recreation! 😁 🚓 🚒 Don't forget to tag us and #TurlockNNO2021 to enter the photo contest! Top 3 photos will receive a gift basket as a prize! 📸 📸 📸 Have fun and stay safe out there everyone! 🤘 #turlock #turlockpolice #turlockpd
Posted on Facebook 2 days ago
Thank you Home Depot for dropping off lunches today for officers and staff as a token of appreciation! . . #turlock #turlockpolice #turlockpd
Posted on Facebook 2 days ago
Thank you Home Depot for dropping off lunches today for officers and staff as a token of appreciation! . . #turlock #turlockpolice #turlockpd
Posted on Facebook 2 days ago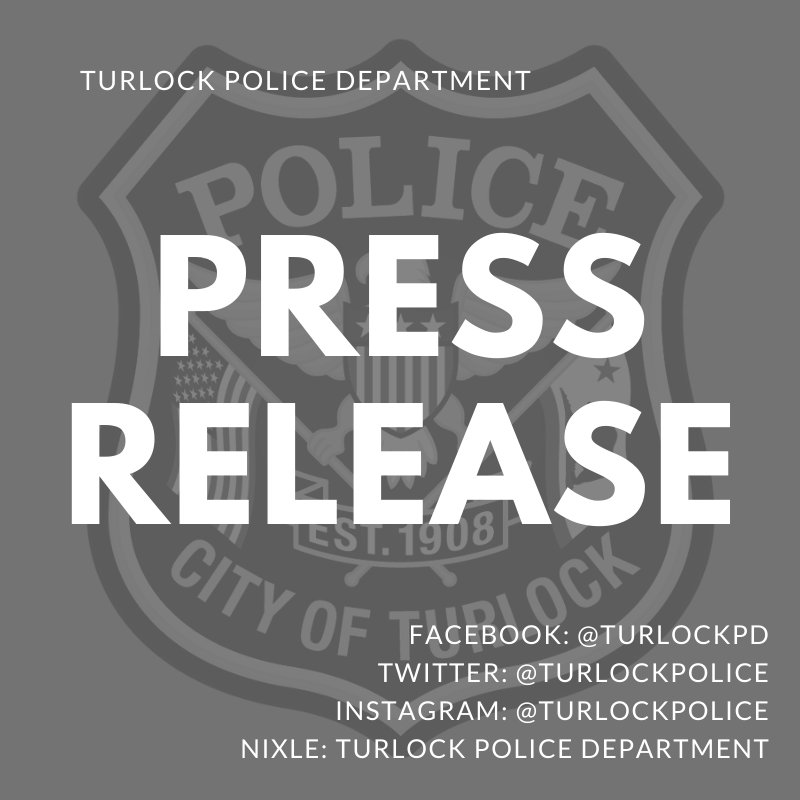 PRESS RELEASE: Arrests Made for Breaking into Community Mailbox, Possession of Burglary Tools https://local.nixle.com/alert/8879954/
Posted on Twitter 3 days ago

PRESS RELEASE: FATAL PEDESTRIAN COLLISION https://local.nixle.com/alert/8872528/ #turlock #turlockpolice #turlockpd
Posted on Twitter 7 days ago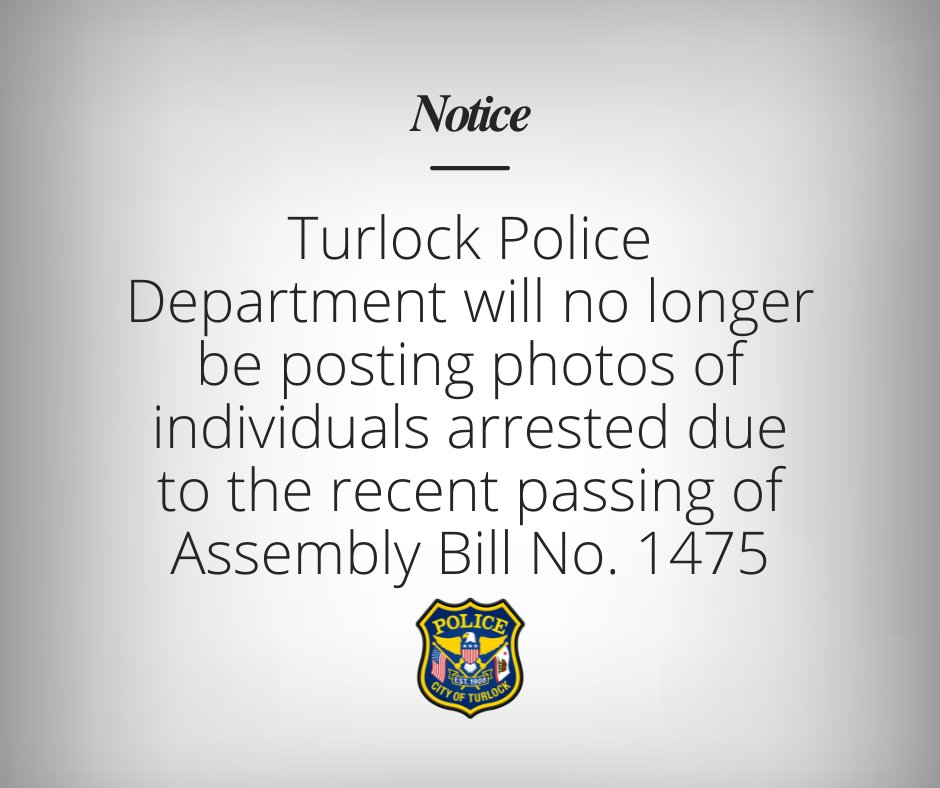 Notice. To read Assembly Bill No. 1475 click here https://leginfo.legislature.ca.gov/faces/billNavClient.xhtml?bill_id=202120220AB1475 ... #turlock #turlockpolice #turlockpd
Posted on Twitter 7 days ago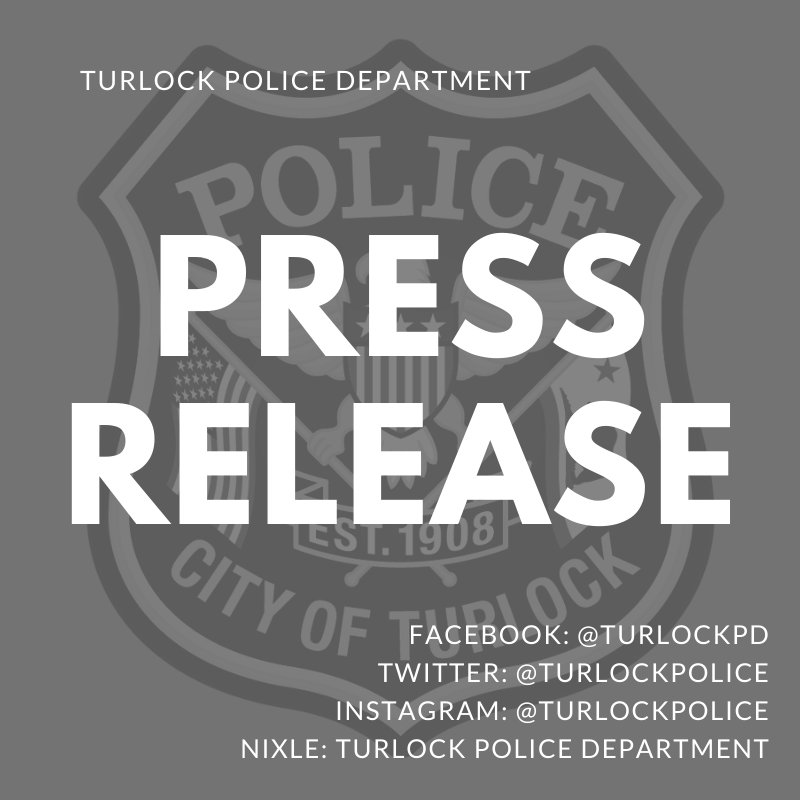 PRESS RELEASE: Two Victims Shot at Local Bar https://local.nixle.com/alert/8865438/ #turlock #turlockpolice #turlockpd
Posted on Twitter 10 days ago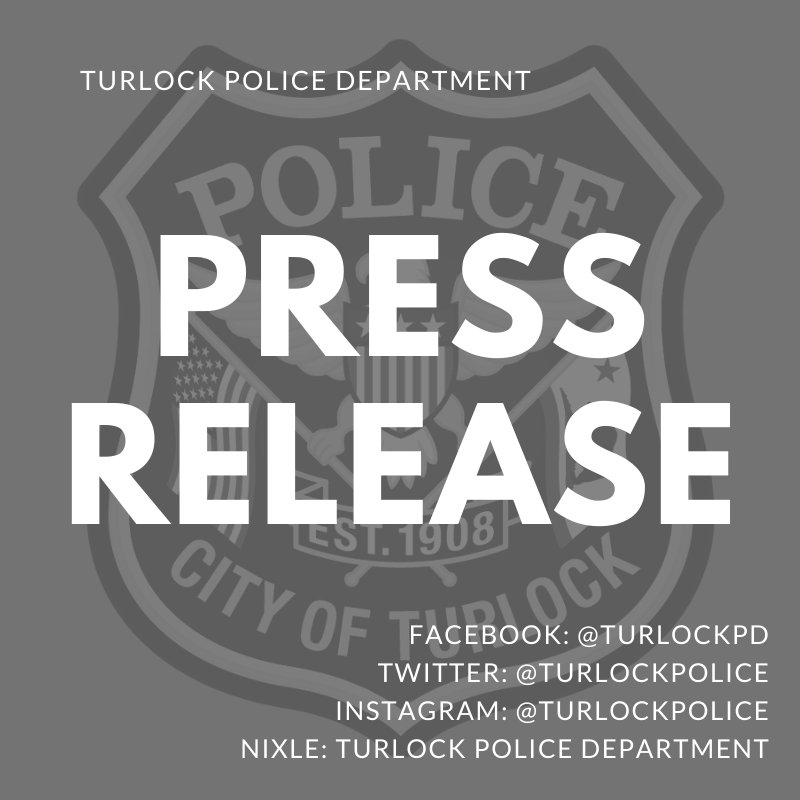 PRESS RELEASE: CHILD PORNOGRAPHY SUSPECT ARRESTED https://local.nixle.com/alert/8858292/ #turlock #turlockpolice #turlockpd
Posted on Twitter 13 days ago

PRESS RELEASE: Fatal Collision https://local.nixle.com/alert/8829928/
Posted on Twitter 27 days ago