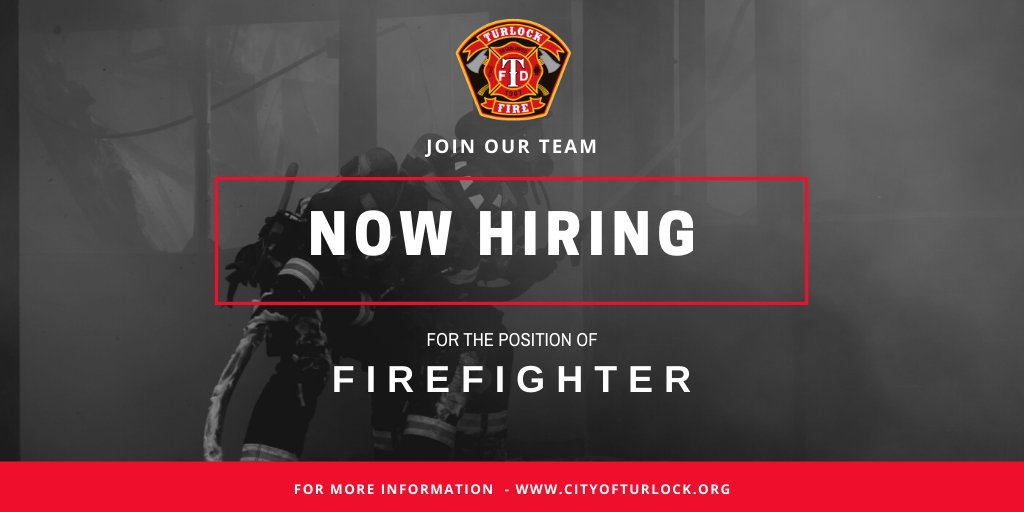 Turlock Fire currently HIRING FIREFIGHTERSVISIT https://www.fctconline.org to schedule your Written Test and CPAT.Final filing deadline of October 05, 2020.For more information - https://tinyurl.com/y34eykeg #Turlock #TurlockFire #NowHiring
Posted on Twitter 1 day ago
The Turlock Fire Department is currently HIRING for the position of FIREFIGHTER. Turlock Fire will be utilizing the FCTC to determine a passing score on the written portion of the test as well as the physical agility requirement. VISIT https://www.fctconline.org to schedule your Written Test and CPAT. Both results must be issued within 12 months of the final filing deadline of October 05, 2020.... For more information - https://tinyurl.com/y34eykeg #Turlock #TurlockFire #NowHiring
Posted on Facebook 1 day ago
Turlock Fire Department continues to support the #California Mutual Aid System with 6 Turlock Firefighters deployed to multiple incidents alongside more than 18,500 other firefighters. CalOES #Turlock #TurlockFire #MutualAid
Posted on Facebook 5 days ago
Our deepest condolences go out to the family and co-workers of the fallen Firefighter fighting the #ElDoradoFire.
Posted on Facebook 5 days ago
Today 18,500 firefighters are battling 27 major wildfires statewide. The latest numbers on all active wildland fires at: https://www.fire.ca.gov/daily-wildfire-report/
Posted on Facebook 5 days ago
USDA Forest Service officials on the San Bernardino National Forest have confirmed the death of a firefighter on the El Dorado Fire. The incident took place on ...Thursday, September 17, 2020. The name is being withheld pending notification of next of kin. Our deepest sympathies are with the family, friends and fellow firefighters during this time. The cause is under investigation. More details will be made available as they are confirmed.
Posted on Facebook 5 days ago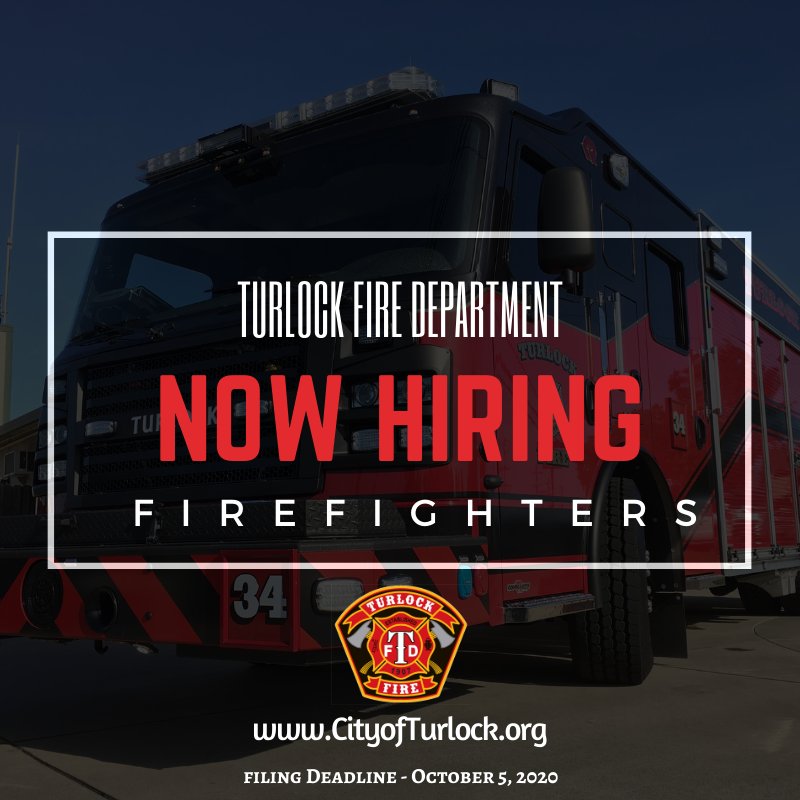 The Turlock Fire Department is currently HIRING for the position of FIREFIGHTER.Turlock Fire will be utilizing the FCTC. Final filing deadline of October 05, 2020.For more information - https://tinyurl.com/y34eykeg #Turlock #TurlockFire
Posted on Twitter 6 days ago
The Turlock Fire Department is currently HIRING for the position of FIREFIGHTER. Turlock Fire will be utilizing the FCTC to determine a passing score on the written portion of the test as well as the physical agility requirement. Both results must be issued within 12 months of the final filing deadline of October 05, 2020. For more information - https://tinyurl.com/y34eykeg... #Turlock #TurlockFire
Posted on Facebook 6 days ago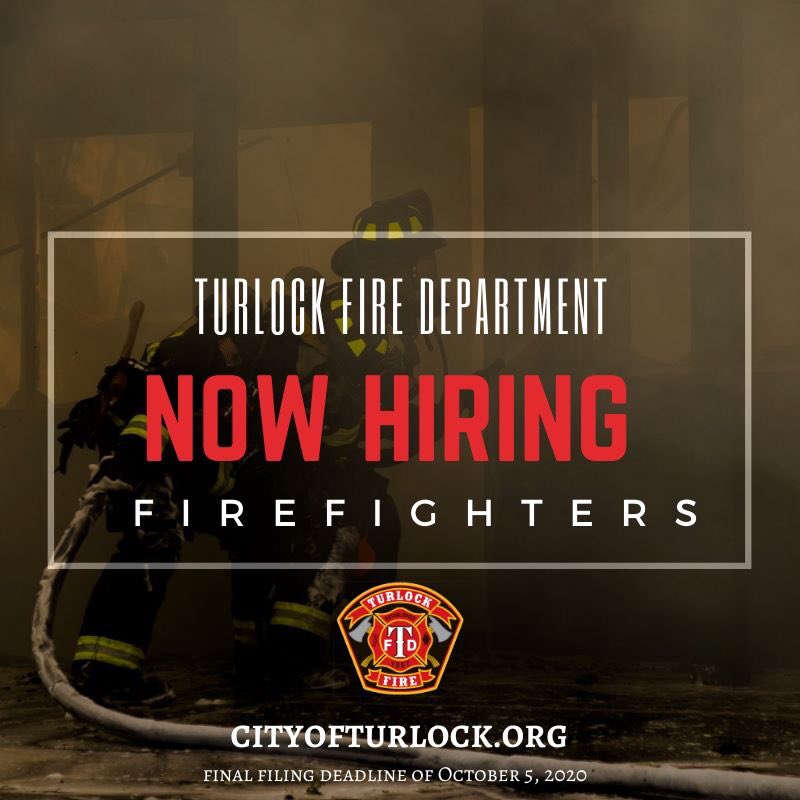 The Turlock Fire Department is currently HIRING for the position of FIREFIGHTER.Turlock Fire will be utilizing the FCTC testing process. Final filing deadline of October 05, 2020.For more information - https://tinyurl.com/y34eykeg #Turlock #TurlockFire
Posted on Twitter 8 days ago

Turlock Fire continues to provide services to our local community & throughout the State. OES E339 remains assigned to the #SQFComplex. 1Captain assigned as Medical Unit Leader on #BobcatFire & 1 Captain assigned as a PIO on the #RedSalmonComplex. @Cal_OES #CaliforniaFires
Posted on Twitter 9 days ago
Turlock Fire continues to provide services to our local community as well as throughout the State. Four Turlock Firefighters on OES E339 remain assigned to the #SQFComplex. A Fire Captain is assigned as a Medical Unit Leader on the #BobcatFire and another Captain is assigned as a PIO on the #RedSalmonComplex. #Turlock #TurlockFire #TurlockFirefighters #MutualAid CalOES Turlock Firefighters, Local #2434
Posted on Facebook 9 days ago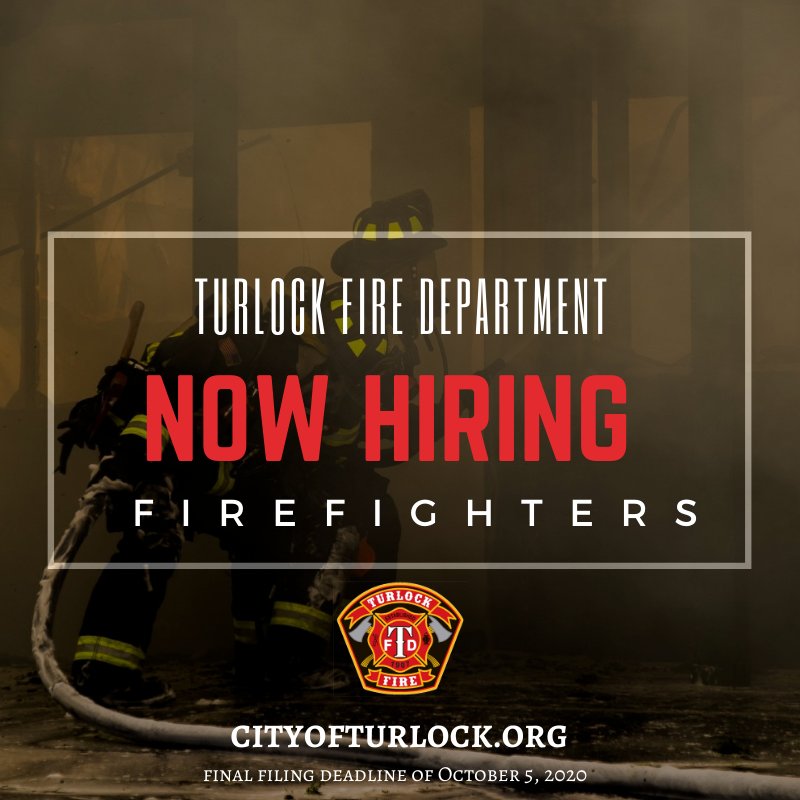 The Turlock Fire Department is currently HIRING for the position of FIREFIGHTER.Turlock Fire will be utilizing the FCTC for this hiring process. Final filing deadline of October 05, 2020.For more information - https://tinyurl.com/y34eykeg #Turlock #TurlockFire
Posted on Twitter 11 days ago
The Turlock Fire Department is currently HIRING for the position of FIREFIGHTER. Turlock Fire will be utilizing the FCTC to determine a passing score on the written portion of the test as well as the physical agility requirement. Both results must be issued within 12 months of the final filing deadline of October 05, 2020. For more information - https://tinyurl.com/y34eykeg... #Turlock #TurlockFire
Posted on Facebook 12 days ago
September 11 at 5:27 PM
Posted on Facebook 12 days ago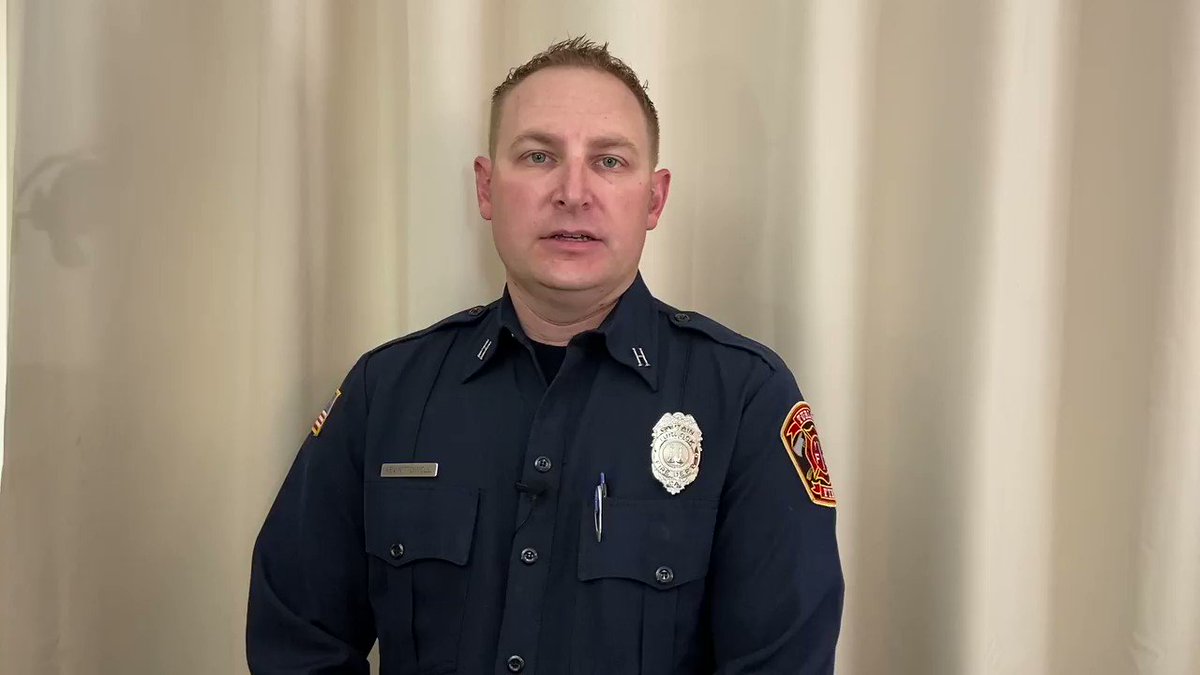 Today we Remember & Honor the victims of September 11, 2001.May we Never Forget the heroric actions of firefighters, police officers, first responders and ordinary people who became extraordinary heros through their actions and sacrifice that day.#Turlock #NeverForget
Posted on Twitter 12 days ago
Although we cannot gather as we usually do on this day each year, the Turlock Fire Department asks that you still take a moment of your day to Remember the victims of September 11, 2001. Take time in your own way to honor those firefighters, police officers, and ordinary people who became extraordinary heroes by doing whatever they could to help their fellow American. May we Never Forget the day that not only changed our nation but our world.... #Turlock #TurlockFire #NeverForget #FDNY
Posted on Facebook 12 days ago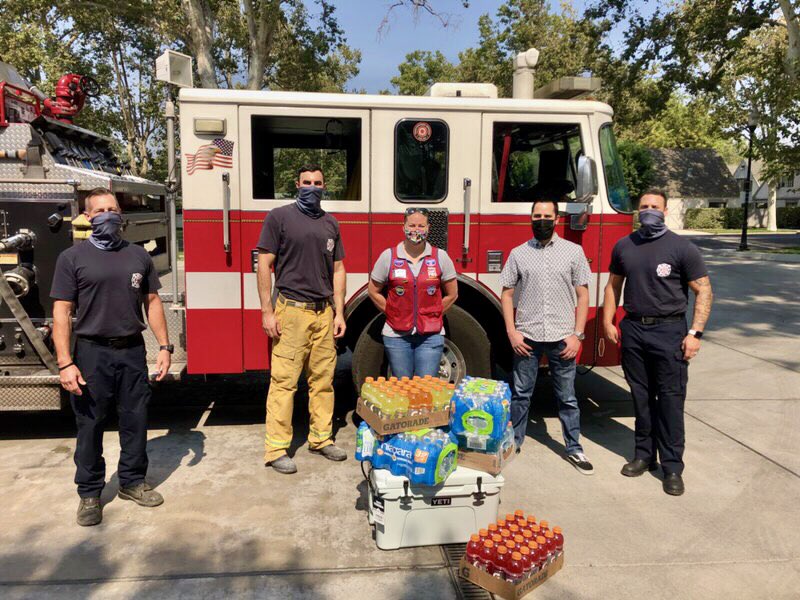 Turlock Fire would like to thank our local @Lowes for donating a YETI cooler with Gatorade & water for our firefighters. With our Firefighters deployed across the state battling wildfires, this ice chest will be great for keeping stuff cold during long shifts on the Fireline
Posted on Twitter 13 days ago
Turlock Fire would like to thank Lowe's Home Improvement for donating a YETI cooler with Gatorade and water for our firefighters. With our Firefighters deployed all across the state battling wildfires, this ice chest will be a great addition to keep food and drinks cold during long shifts out on the Fireline. Thank you Jennifer, Michael and all the staff at LOWES for your generous donation. ... #Turlock #TurlockFire #LOWES Lowe's Home Improvement
Posted on Facebook 13 days ago
Turlock Fire Administration will be closed today in honor of Labor Day! All Turlock Fire stations remain fully staffed and 6 Turlock Firefighters continue to be deployed to multiple large wildfires in California. Thank you to all our Firefighters, law enforcement and fellow first responders who continue to work hard protecting our communities on this Labor Day!... Have a Safe and Happy Labor Day! #Turlock #TurlockFire Turlock Firefighters, Local #2434 #LaborDay
Posted on Facebook 16 days ago